AI Builder: Because You're Too Busy to Do Everything Yourself
What is Microsoft AI Builder
AI Builder is a cloud based tool that allows businesses to utilize various types of pre-built and custom AI models. AI Builder is a low code Artificial Intelligence tool allowing users to create AI models quickly following a simple guided process, without having any prior programming knowledge. AI Builder allows for models to be trained, republished, and utilized in products such as Power Apps Power Automate and Power Virtual Agents.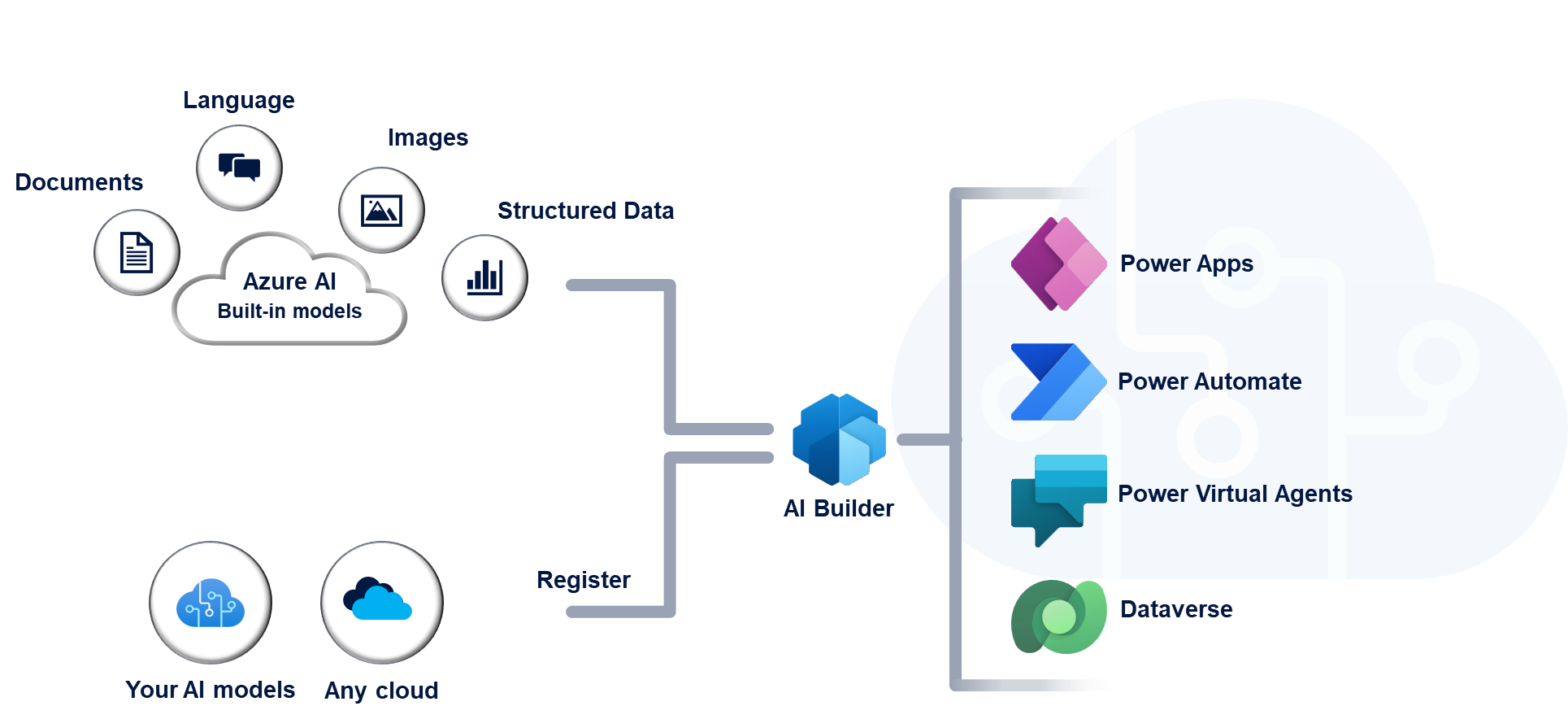 How to use AI Builder
With a wide range of pre-built model templates and the ability to create your own models from the ground up, AI Builder allows users to quickly create specific models that can be used for many purposes such as form processing, object detection and sentiment analysis. These models can then be accessed through other Power Platform products such as Power Apps and Power Automate.
Creating a model is relatively easy and can be done through the the AI Builder studio within Power Apps or Power Automate. Simply select the model you would like to use and follow the guided steps to define labels, fields, upload data as well as test and train your model.
Model Types
Microsoft offer a variety of AI models within the Power Platform. Some of which are blank templates, others are already partially built.
Pre-built Models
Pre-built AI Models are partially built models provided by Microsoft in the AI Builder studio. This allows for developers to further build and train models without having to start from the beginning.
Custom Models
Microsoft also included the option to build your own custom AI Models. Using this option, developers have full control over what type of mode they are building, training and what data is used.
Best Practices
To make the most out of your AI models, there are a few ideas you should keep in mind:
Start small: Large AI models were not built over night. Start with a simple use can and slowly scale your model to make it more advanced.
Data: When creating models from scratch, ensure you have quality and reliable data to feed the model. Additionally, try avoid sample size bias issues and imbalanced classification by have a good amount of data on hand.
Train: Your model is only as good as its data. Continuously test and train your model with new data to ensure that it becomes more accurate and not relying on stale data.
Monitor: Keep an eye on your models performances. AI models can be very resourceful, especially AI Builder with credits.
Licensing
AI Builder licensing a slightly more complex than the other Power Platform licensing structure as it works off a credit usage. You can read about AI Builder costs here and even calculate how many AI credits you require here.